by Michele Corriston |
Jenny's back on the block.
Surprise! Bronx-born Jennifer Lopez made an unannounced visit to the New York City borough where she grew up on Sunday to open the Center for a Healthy Childhood, a joint effort between her Lopez Family Foundation and the Montefiore Health System.
The pop star donated $250,000 for the project — and celebrated by appearing at Montefiore's Community Health Fair along with her sister Lynda.
At the fair, Lopez made a protein shake with Marco Borges, an exercise physiologist and the founder of 22 Days Nutrition — and the brains behind Beyoncé's 22-day vegan cleanse.
The two whipped up Lopez's favorite drink, a spinach protein smoothie with sunflower butter. During the demonstration, the "I Luh Ya Papi" singer said her 6 1/2-year-old twins, Max and Emme, helped inspire her to serve her family a healthy breakfast.
"I knew the stuff that I was eating wasn't giving me energy. I realized that after a while, and I was feeding this to my kids. Is this good for them?" she said. "So I was ready to try something different. …[This smoothie] tastes fresh, and you're doing something good for yourself. It makes a huge difference."
PEOPLE caught up Borges after the presentation, and he spilled the secret to creating J.Lo's breakfast smoothie.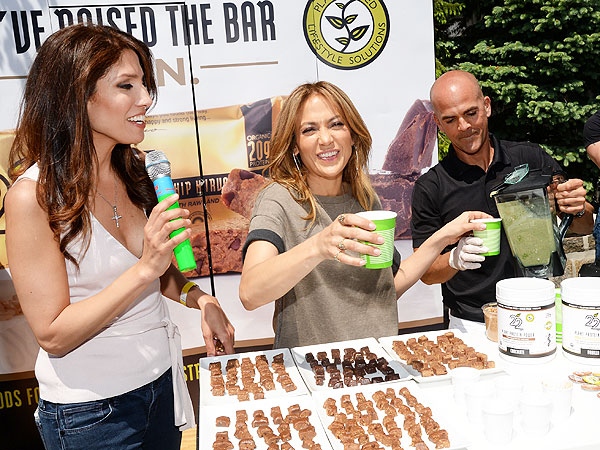 "It makes an unbelievably healthy [drink] full of fiber, full of omega 3, protein, and it's a really great meal replacement or recovery drink," he said. "She absolutely loves it. That's her go-to drink every day."
Spinach Protein Smoothie
Makes 1
1 handful spinach
1 frozen banana
1 cup rice milk
2 scoops almond or sunflower butter
1 scoop protein powder
Combine all ingredients in a blender and blend until desired consistency is achieved.
—Michele Corriston, with reporting by Mabel Martinez | via People
* * *
PEOPLE Great Ideas is the ultimate source for the latest entertainment food news, plus exclusive recipes, decorating ideas, travel tips, videos and more from your favorite stars and celebrity chefs. Get more information at PEOPLE Great Ideas.